Costa Rica has qualified for the upcoming 2022 FIFA World Cup. The team has appeared in every edition of the World Cup since making its first appearance in 1990. They were one of the most prominent teams in Central America, winning three CONCACAF Championships in 1963, 1968, and 1989.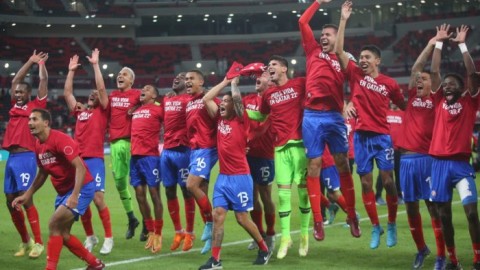 Costa Rican players celebrate after qualifying for World Cup
SOURCE: Pinterest
Costa Rica defeated New Zealand and sealed their spot in the World Cup. The game ended 1-0 at the final whistle. Joel Campbell's early goal sent Costa Rica to their third World Cup.
Bryan Ruiz is the captain of the Costa Rican Football team, and Luis Fernando Suarez will lead the team as Head Coach.
Costa Rican Football Association has officially announced the 23 men's squad for the 2022 World Cup, the team is listed below.
Goalkeepers
Keylor Navas(Goalkeeper)
Esteban Alvarado(Goalkeeper)
Patrick Sequeira(Goalkeeper)
Defenders
Francisco Calvo(Defender)
Juan Vargas(Defender)
Kendall Waston(Defender)
Oscar Duarte(Defender)
Daniel Chacon(Defender)
Keysher Fuller(Defender)
Carlos Martinez(Defender)
Bryan Oviedo(Defender)
Ronald Matarrita(Defender)
Midfielders
Yeltsin Tejeda(Midfielders)
Celso Borges(Midfielders)
Youstin Salas(Midfielders)
Roan Wilson(Midfielders)
Gerson Torres(Midfielders)
Douglas Lopez(Midfielders)
Jewison Bennette(Midfielders)
Alvaro Zamora(Midfielders)
Anthony Hernandez(Midfielders)
Brandon Aguilera(Midfielders)
Bryan Ruiz(captain) (Midfielders)
Forward
Joel Campbell(Forward)
Anthony Contreras(Forward)
Johan Venegas(Forward)
Stay Tuned With Playerswiki