Many people in the world want the fame that Lindsey Pollack has. However, Lindsey gained the spotlight as a humble wife to a well-known athlete. Yes, she is married to former NFL star David Pollack. Although much about the former athlete's wife remains hidden, the love birds share a loving marriage. And Lindsey and David are well on their way to passing their second-decade milestone in their marriage.
Despite not liking the limelight, David's wife makes many public appearances with her husband to show her love and support. Lindsey loves her privacy, and she keeps her Instagram settings private. And what's more, the Pollack couple parented two children in their life.
David Pollack is Married to Lindsey Hopkins, A Georgia Native
Lindsey Pollack was born and raised by her parents in Lilburn, Georgia. Likewise, her family name before the marriage was Hopkins. And similar to Lindsey, her parents shy away from the spotlight. As such, the celebrity wife's mother and father remain elusive to the public.
Lindsey Pollack and David Pollack took a picture with their children outdoors.
SOURCE: Facebook@LindseyHopkinsPollack
Much about Lindsey's family stays a mystery. Likewise, it remains unclear whether she has siblings or not. But, as a child, Pollack attended Parkview High School near her hometown. And like most of her early days, Hopkins keeps the info on her school days out of earshot.
After graduating high school, Lindsey set out to get her higher education. And she managed to get into the University of Cincinnati. Also, Hopkins studied Early Childhood Education as her major. And later, David Pollack's wife joined and graduated from the University of Georgia.
David Pollack's Wife, Lindsey Hopkins put her degree to good use and became a Preschool teacher!
Although Lindsey Hopkins Pollack currently doesn't have a career, Hopkins worked as a preschool teacher at Duluth First United Methodist Church. Likewise, Lindsey graduated with a degree in early childhood education, so she later started working as a teacher.
However, Pollack's years as a teacher remain a bit fuzzy. But it would be somewhere before her marriage to her husband, David Pollack. And currently, she helps her husband run The Pollack Family Foundation, created with the aim of a nation filled with healthy families.
Related: How Much is David Pollack's Net Worth? Detail about his Salary, Career, and Awards
David Pollack Net Worth, Salary, and Contract: Know Pollack's Career Earnings
David Pollack, a former professional football player, and current ESPN commentator, has amassed a considerable net worth exceeding $3.7 million. Throughout his playing career, it was reported that Pollack earned a total of $7.9 million.
Pollack signed a significant contract with the Cincinnati Bengals. The contract spanned five years and was valued at $10 million. Of this amount, $7.65 million was guaranteed, ensuring a substantial financial foundation. The average annual salary under this contract was $2 million.
Pollack embarked on a broadcasting career with ESPN. In 2017, he was earning an annual salary of $535,000 while working for the network. It should be noted that the broadcasting industry can offer additional avenues for income, such as endorsement deals and other related ventures. It is worth mentioning that Pollack's salary as an ESPN commentator was reported to be $81,650 annually.
Lindsey Pollack and David Pollack: Reaching Two Decades of Wedlock!
Let's be honest; no marriage or relationship is perfect, but to make them last a lifetime, now that is a committed relationship that Lindsey Pollack and David Pollack hold. Lindsey and the former NFL star tied the knot on May 21st, 2005.
Lindsey Pollack took a picture with her husband and children as their kids held a trophy.
SOURCE: Instagram@davidpollack47
David and his wife, Lindsey, keep their relationship's how and when away from the public. And so, the in-depth details about their love affair before the marriage stay unknown. The past can remain hidden behind the closed door, and the Pollacks currently share a solid married life.
Lindsey and her husband welcomed two children in their seventeen years of marriage. Their firstborn is a son named Nicholas Pollack, born in 2008. Likewise, they birthed their second child, Leah Pollack, in 2010.
In their 17th year of marriage, the couple will soon hit the two-decade mark. And in all of their married years, Lindsey and her husband stayed faithful to their vows. Also, the duo remained free of any unsavory rumors and extramarital relationships.
Pollacks keep their dating History a secret.
It's an age-old tale, and the past always comes back to haunt you. And so, keeping that in mind, the Pollacks keep their past affairs out of the limelight. And as a result, the names romantically connected to David Pollack or Lindsey Pollack stay deep in the murky depths of their past.
Throughout his time in the spotlight, David maintained a clean reputation. So, the former NFL player left his love life out of sight. Similarly, since Lindsey came to the limelight after her marriage, the relationships before her wedlock stay a complete mystery.
Lindsey Pollack's Husband, David Pollack suffered a career-ending Injury
An athlete's biggest fear would be a career-destroying injury; David Pollack suffered such an incident. Pollack's nightmare began with a sprained knee in 2005. And after missing two games in the season, he would return to the field again in the following year.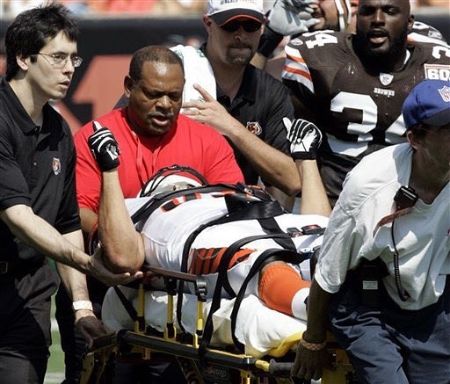 David Pollack was carried out of the field on a stretcher on September 17, 2006, in a game against the Cleveland Browns.
SOURCE: Instagram@davidpollack47
But, as fate would have it, David got hit by a nasty tackle while playing against Cleveland Browns on September 17, 2006. Pollack was taken out of the match, and the media later reported that the sixth cervical vertebrae was broken in the collision. Many thought that an injury like that would be career-ending, and right they were.
On Jan 7th, 2007, ESPN reported that David would resume his NFL career, seemingly defying all odds. But, the fairy tale story ended on April 22, 2008, when Marvin Lewis, the head coach of the Cincinnati Bengals at the time, announced Pollack's retirement. And during those hard times, Lindsey Pollack, his wife, stood by his side.
Lindsey's Husband David Pollack's Success as Host on ESPN.
After his career ended, David Pollack wanted on many ventures, from founding his own company, creating The Pollack Family Foundation, and finally starting a career as a host of a sports talk show.
Lindsey Pollack took a picture with her husband and children.
SOURCE: Facebook@LindseyHopkinsPollack
On September 9th, 2008 first appeared as the afternoon host on Atlanta's 790 The Zone. In the same year, Pollack joined CBS's college football coverage, and by 2009 he became a member of ESPN's college football analyst. David's big break came in the summer of 2012 when he replaced Craig James on ESPN's Thursday Night Football.
More recently, on March 11, 2020, Pollack became a member of the College Football Hall of Fame. What's more, Rece Davis, his colleague from College Gameday, announced his induction live. And as of 2022, David Pollack holds an estimated $500 thousand as his net worth.